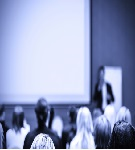 The Australian Road Research Board (ARRB) warmly invites you to attend the 28th ARRB International Conference (ARRB 2018), which is to be held from 30 April to 2 May 2018 and the 8th Symposium on Pavement Surface Characteristics (SURF 2018), to be held from 2 May to 4 May 2018. Both events are to be held at the Brisbane Convention Centre, Brisbane, Queensland.
Wednesday 2 May has been set aside for topics relevant to delegates attending both conferences.
28th ARRB International Conference – 30 April to 2 May 2018
The conference welcomes road and transport practitioners and researchers under the conference theme 'Next Generation Connectivity'. It is anticipated that around 500 local, interstate and international delegates will attend the event. This conference is a platform for local and international experts to discuss the latest road and transport innovations and technologies, and for maximising the total safety, economic and social benefits of road and transport infrastructure.
The opportunity to network with our industry's most prominent figures, including representatives from academia, government and industry, is just the start. Attendees will hear thought-provoking presentations from keynote speakers including Olympic cyclist and gold medal winner Anna Meares, OAM, Randell 'Randy' Iwasaki, Executive Director of the Contra Costa Transportation Authority (CCTA), Katherine Teh-White, Founder and Managing Director of FutureEye, and Dr Ian Noy, human factors and automated vehicle safety expert and Immediate Past Director of the Liberty Mutual Research Institute for Safety (LMRIS) in Boston.
For more information please visit the official website: arrb2018.com.au