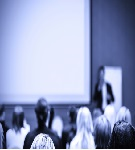 Join AAMHP for their 2018 conference.
The Australian Association of Manual Handling of people is a voluntary group of likeminded people all striving for a common goal. Injury prevention for both worker and client in the workplace. Predominantly we look at techniques and strategies to resolve the constant issue of Muscular Skeletal Disorders within the industries providing care to others, but ultimately over the years we are convinced that we are achieving much more than that. Wellbeing and resilience are words that will resinate throughout the 2018 conference, with many papers demonstrating the biproduct of our work, that being better care results for our clients.
Most of us all feel overwhelmed at times with the ever-changing dynamics of our industries and as such seek to ensure networking events that have a specialty focus and an assurance that we are headed in the right direction. Even when having been in the industry for over 40 years I too value the insight of other colleagues and as seniors in the industry feel we have a duty to assist and mentor those upcoming persons following up the ranks and seeking to improve the quality and lifestyle of those around us.
The 8th Biannual conference in Melbourne will, with your help be bigger and better as every one of our conferences seems to escalate every time they are held. Melbourne can accommodate large numbers at the Pullman, situated in the heart of the CBD and the social activities planned are phenomenal, showcasing some of the major icons of Melbourne.
The conference will coordinate some of the most highly motivated and inspiring speakers yet, to engage in debate, dialogue and impart wisdom in large quantities. We have selected both International and local Australian talent to fill our days and don't forget the vendors whom always prove dynamic in presenting the latest in injury prevention strategies by way of equipment solutions from all around the world.
We hope to see you at the Pullman 21st through 23rd May 2018, stay safe and I look forward to welcoming you all.
Pippa Wright Chair AAMHP
CSPHP, CFSIAP RSP Aust.