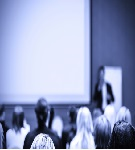 Abstract:
How does increasing life expectancy impact on the way we design careers and work? What has gotten us to this point in career and work design probably won't assist in navigating longer (working) lives from the physical and mental challenges of longevity. Traditional career strategies are not likely to assist modern workers adjust to the changing nature of human/system interactions. This is especially true for generalists and those in low-skill occupations.
Join us for an interactive session about how these challenges might play out in the Australian context. You'll leave with a practical sense of what you can do and gain some ideas for future research.
Presenter's Bio:     
Lee Sarandopoulos is a PhD candidate with the Australian National University, College of Business and Economics, Research School of Management. Her research interests are in management, careers, longevity, retirement and their intersectionality with diversity and equality. Lee has 10 years experience in the Australian Federal Government with a technical focus on service design and delivery, user research and client experience and a broader focus on coaching for engagement and satisfaction and equipping people to effectively navigate organisational life.
Refreshments shall be provided at no extra charge.
Point of Contact:  Kate Black (Tel: 0439 766 537)
Costs:
HFESA Members    $40
General Fee         $55
Full Time Students     $20