ACT Branch: Wine and cheese PD event on Work Design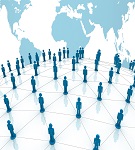 Schedule:
19/10/2017 , 6:00 pm - 8:00 pm (Localtime)
Venue:
Gryphons Bar, 16 Barker Street, Griffith ACT, ,
Detail:
Over wine and cheese (and dinner if you wish), come join ACT HFESA network for a very timely discussion and presentation on Work Design and positive approaches to how work is organized and impacts on us. There will be a presentation and summary of feedback from the event and follow-on activities/research from the May Seminar/Workshop on "Being Human and the re-designing of work". There will also be a facilitated discussion and sharing of experiences and case studies.
In the words of the Centre for Transformative Work Design, "we are experiencing the profound changes in the way work is done". Key shifts in work roles are related to the digital and knowledge based transformation in our workplaces and we need to understand as practitioners how to influence good work design in this context. This a compelling topic and we do urge you to join us for an important event.
Cost: $20 (concession available if required)
Booking:
Bookings are closed for this event.