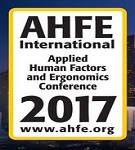 Category:
Non HFESA Event
Schedule:
17/07/2017 - 21/07/2017 , 12:00 am (Localtime)
Venue:
AHFE 2017, Los Angeles, California, ,
Detail:
The 8th International Conference on Applied Human Factors and Ergonomics (AHFE 2017) and the Affiliated Conferences will be held at the Westin Bonaventure Hotel, Los Angeles, California, USA, July 17-21, 2017.
The conference objective is to provide an international forum for the dissemination and exchange of scientific information on theoretical, generic, and applied areas of human factors and ergonomics. This will be accomplished through the following six modes of communication: keynote presentation, parallel sessions, demonstration and poster sessions, tutorials, exhibitions, and meetings of special interest groups. The five-day conference will start with tutorials. Tutorials will be offered at introductory, intermediate, and advanced levels covering the entire spectrum of the conference.
For more information, please visit AHFE 2017 website
Booking:
Bookings are closed for this event.