HFESA 2017 Conference site visit – Illawarra Flame House and Sustainable Building Research centre @ 5pm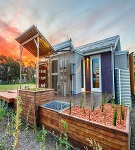 Schedule:
26/11/2017 , 5:00 pm - 6:00 pm (Localtime)
Venue:
HFESA 2017 Conference site visit, Wollongong, NSW, ,
Detail:
Before the Welcome reception on Sunday afternoon, groups of delegates will be able to tour the flame house and sustainable buildings research centre, which is located on the innovation campus, right near where our welcome reception will be held.
Tours will last one hour, and there will be two tours commencing at 4pm and two tours commencing at 5.Registration for these tours will be required due to limited capacity on each tour (maximum 20 people).
Please note that site visits are for conference delegates only that have paid their registration in full. Registrations are essential, please register below for the 5pm tour.
Booking:
Bookings are closed for this event.