HFESA 2017 Conference workshop – FRAM follow up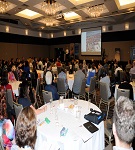 Schedule:
29/11/2017 , 1:15 pm - 3:15 pm (Localtime)
Venue:
HFESA 2017 Conference, Wollongong, NSW, ,
Detail:
Please note that workshops are for conference delegates only that have paid their registration in full. Registrations are essential, please register below for this workshop.
Robyn Clay-Williams
FRAM follow up.
This workshop is an intensive session; 15 participants only who must have completed Tuesday workshop.
Download the workshop summaries here
Booking:
Bookings are closed for this event.