HFESA 2017 Conference workshop – The elephants in the room. Managing non-acute MSD manual task risks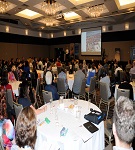 Schedule:
29/11/2017 , 1:15 pm - 3:15 pm (Localtime)
Venue:
HFESA 2017 Conference, Wollongong, NSW, ,
Detail:
Please note that workshops are for conference delegates only that have paid their registration in full.
Registrations are essential, please register below for this workshop.
Rodney Powell
The elephants in the room. Addressing "non-acute MSD" manual task risks.
Download the workshop summaries here
Booking:
Bookings are closed for this event.