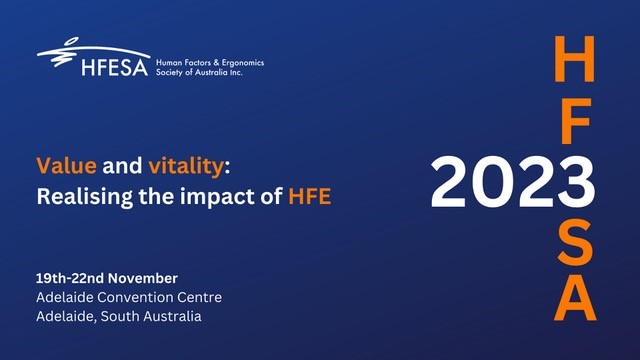 Category:
Annual HFESA Conference
Schedule:
19/11/2023 - 22/11/2023 , All Day (Localtime)
Detail: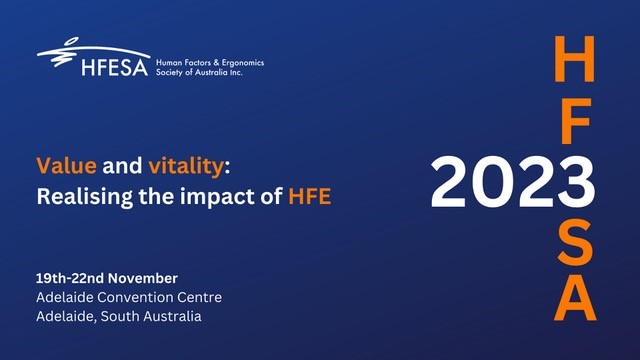 Planning is well underway for the annual National HFESA Conference 2023 held in Adelaide, South Australia at the Adelaide Convention Centre from 19th – 22nd November. The conference theme is:
Value and Vitality – Realising the Impact of Human Factors & Ergonomics
Call for papers will be coming in February 2023!
It's time to start thinking about submitting an abstract for a paper or workshop and share your work.
We'd love to hear from practitioners and academics on topics that showcase the value and vitality of human factors & ergonomics across diverse industries and applications. We aim to reflect on the value of our work, and provoke discussion and debate. Broad topics include:
Cost- benefit impact
Social impact
Quality and safety impact
Participatory practice
Sociotechnical systems
Methods and measures
Design – systems, spaces, interfaces
Culture
Technology
Physical ergonomics
We look forward to hearing from you.
For more information, please contact
Anjum Naweed (Conference Scientific Convenor)
Valerie O'Keeffe (Conference Scientific Co-Convenor)
Booking: