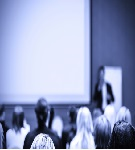 Join us for an insightful gathering on Wednesday 26 July 2017, to explore the topic of violence and aggression in the Healthcare Workplace.
Occupational Violence and Aggression (OVA) is a growing hazard in the workplace, in particular the Healthcare and social service industry. OVA takes many forms and sometimes with fatal outcomes.
Key to the successful management is the empowerment of your workforce to recognise and take steps to prevent and reduce the severity of any incidents. One such way of managing OVA is by "Verbal Judo"(Tactical Communications) and our presenter Trevor Lawson is a Verbal Judo Instructor who runs training Australia wide.
Event Details
Date: Wednesday 26 July 2017
Time: 5:00pm to 7:30pm (5:00pm Registration)
Venue: Hollywood Private Hospital, Monash Avenue, Nedlands
Cost: Complimentary * fingerfood and beverages provided, sponsored by Hollywood Private Hospital part of Ramsay Healthcare.
Trevor Lawson
Trevor was introduced to Verbal Judo in 2011 while in his role as the Security Training Coordinator for a Major Victorian Healthcare network.
Trevor was trying to find a communication system that would equip his team with the right skills and strategies they would need to deal with the many difficult and violent situations they face on a daily basis.
As a frontline Security professional with over 20 years experience and an instructor in Management of Aggression strategies and customer services skills, Trevor knows that the Verbal Judo principles work.  His passionate, motivated and dynamic approach to teaching will provide your team with the skills they need to do their job safely and professionally.
Trevor has conducted training sessions across a wide variety of areas, including: education, local Government, Health care, compliance, customer service, banking & security as well as many more…
REGISTER HERE: https://safetyinstituteofaustralia.eventsmart.com/events/violence-and-agreesion-in-the-healthcare-workplace/
This event is a joint initiative by the Safety Institute of Australia (SIA) and Human Factors and Ergonomics Society of Australia (HFESA), sponsored by Hollywood Private Hospital part of Ramsay Health Care.