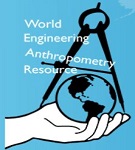 Did you know that the WEAR (World Engineering Anthropometric Resource) is a resource where you can build queries and find out some answers to some of these questions and more. HFESA are trying to gauge interest among their members (you) in this resource to decide whether they want to subscribe, which would make this accessible to you for no cost. If you are or might be interested please join us for a short presentation. Even if you can't make the time please register your interest because each registration counts and will determine the interest.
So please join us for a short talk on how to use WEAR.
Topics covered will include WEAR data network, what data (body measurements) are accessible and how to search them and very briefly tools for using 1D and 3D anthropometric data. This will be an overview. The presentation will be short that is 10 to 15 minutes and provide time for questions.
Date: 27 April 2017
Time: 12.30 AEST (12.00 Adelaide time)
Duration: 30 minutes
Cost: FREE
Please note the webinar link will be sent out to registered members 1 day prior to the webinar.