HFESA PD – Ken Provins Award Presentation
Category:
Professional Development
Schedule:
21/02/2023 , 6:00 pm - 7:00 pm (Localtime)
Detail:
The first HFESA professional development session for 2023 will be presented by the Ken Provins award receipient from the 2022 Conference at Lancemore, Macedon Ranges. This will display Richard Sutherlands wonderful presentation on 'Backyard beekeeping is more than enjoying the honey – design well to avoid acute and chronic pain', with time for Q&A following the presentation. This session will be hosted by Dr Andrew Petersen.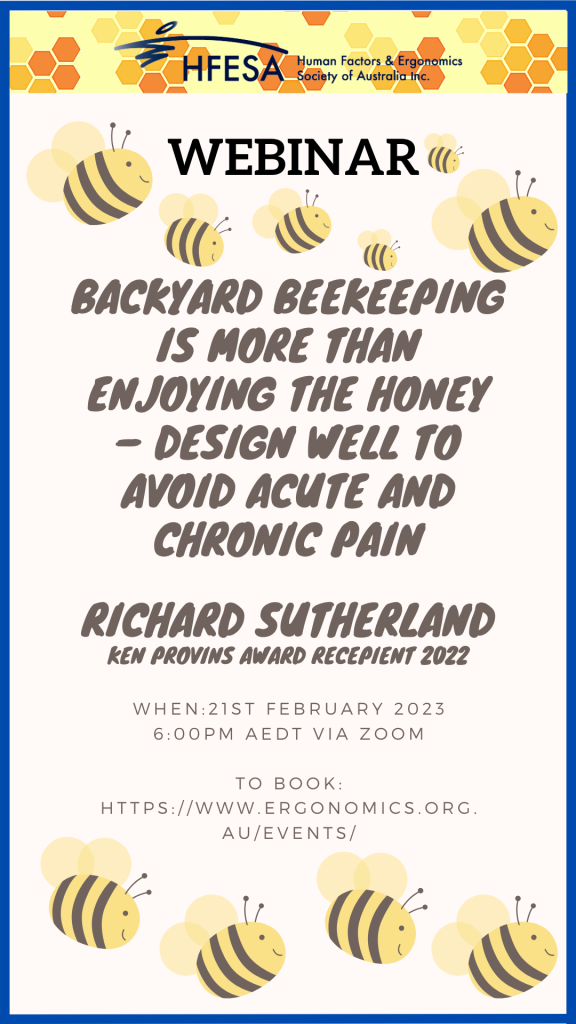 The Ken Provins Award is awarded annually for the best paper presented during the Society's Annual Conference for the year of the Award.
Awarded to individual or joint authorship, but not for a keynote speaker.
The Award is based on both the written paper and the oral presentation at the conference.
The Award is in the form of a Certificate for each author.
Time/date: 21st February 2023 6:00pm AEDT
Cost:
Members: free
Non-members $30.00
Booking:
Bookings are closed for this event.