Tools of the HFE Profession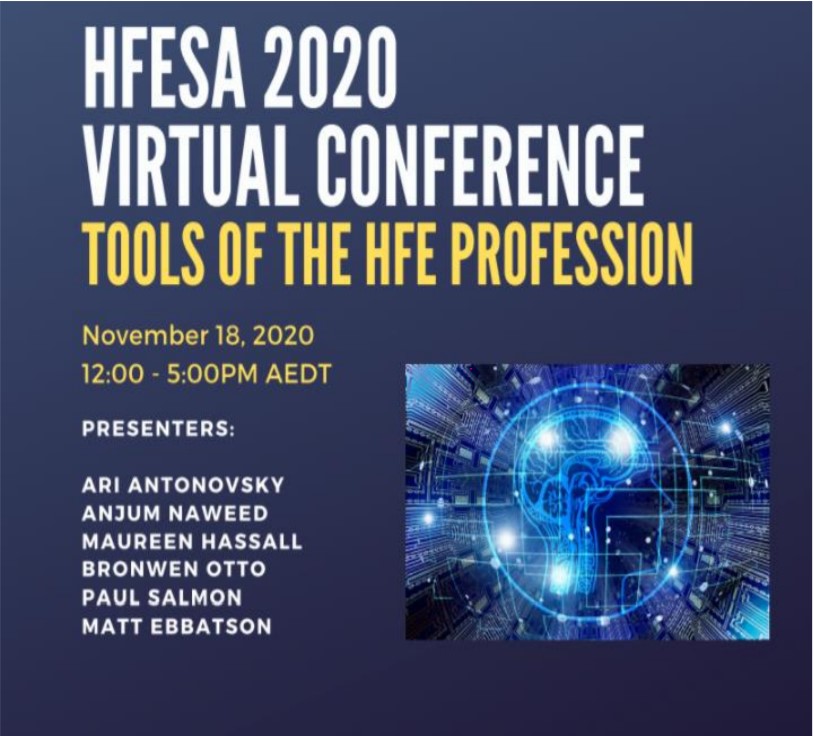 Event Schedule   (Note: 5 minutes change over between presenters)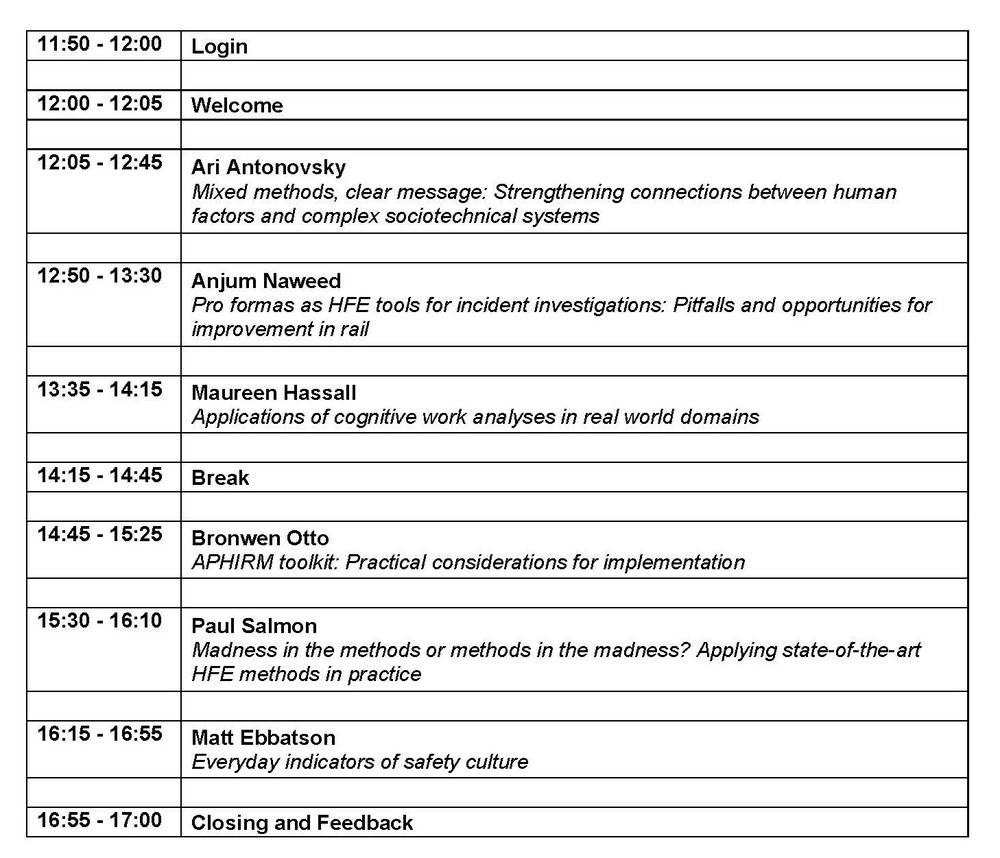 Speaker 1 – Ari Antonovsky
Senior Research Fellow at the University of Western Australia
Presentation: Mixed methods, clear message: Strengthening connections between human factors and complex sociotechnical systems
Speaker 2 – Anjum Naweed
Associate Professor at Central Queensland University (Adelaide)
Presentation: Pro formas as HFE tools for incident investigations: Pitfalls and opportunities for improvement in rail
Speaker 3 – Maureen Hassall
Associate Professor and Director of UQ R!SK at the University of Queensland
Presentation: Applications of cognitive work analyses in real world domains
Speaker 4 – Bronwen Otto
Specialist Occupational Health Physiotherapist at BHP
Presentation: APHIRM toolkit: Practical considerations for implementation
Speaker 5 – Paul Salmon
Professor in Human Factors and Director of the Centre for Human Factors and Sociotechnical Systems at the University of the Sunshine Coast
Presentation: Madness in the methods or methods in the madness? Applying state-of-the-art HFE methods in practice
Speaker 6 – Matt Ebbatson
Aviation Postgraduate Course Director in the Faculty of Science, Engineering & Technology at Swinburne University
Presentation: Everyday indicators of safety culture
Please click here to download the full Speakers' brief.
HFESA Members
Full members – Free
Affiliate members – $45
Full time student members – Free
AIHS Members – $45 – please see instructions below on how to register
Non HFESA members – $90 [Join HFESA here]
REGISTRATION: Please register by scrolling to the bottom of this page to the "Submit" button. Details of how to join the event will be sent to you once you have registered. This PD event will be delivered via Zoom and registration is required.
AIHS
Members who are not Members of
HFESA
please contact
office@ergonomics.org.au
 by noon on Monday 16 November to qualify for the discounted price of $45.00 for this event.
See below for your local time
Adelaide, Wed, 18 Nov 2020 at 11:30 am ACDT
Brisbane, Wed, 18 Nov 2020 at 11:00 am AEST
Canberra, Wed, 18 Nov 2020 at 12:00 noon AEDT
Hobart, Wed, 18 Nov 2020 at 12:00 noon AEDT
Melbourne, Wed, 18 Nov 2020 at 12:00 noon AEDT
Perth, Wed, 18 Nov 2020 at 9:00 am AWST
Sydney, Wed, 18 Nov 2020 at 12:00 noon AEDT