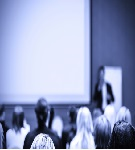 Our Theme is Ergonomics, creativity and design thinking Facilitated by Stephen Ward, Director of the Industrial Design program at UNSW. He has over 16 years' experience as a design educator, coming from a background of industrial design practice and ergonomics.
An evening of fun and frivolity. Catch up with colleagues in an informal setting with a meal and a drink. Later in the evening there will be a design immersion experience, directed by Steve Ward. We will have you competing in small groups to solve a design problem that comes with a goal and some constraints,  but not much guidance! It will be followed by a reflective de-briefing and a very brief presentation by Steve Ward on (creative) design process.
Come prepared to take risks in the design challenge – explore the unknown (or at least the poorly defined). Without giving away the details, the design challenge will involve preventing injury to an object in a high speed collision.
What to bring? An open mind and a pencil
Food and drink available at the bar
Seats are limited to 30 people
Register by Wednesday 14th March 2018
Networking:from 6.00pm
Main Event: 7.00pm – 8.15pm (Food and drinks at own expense)
Cost: HFESA members: $20.00, Non-members: $25.00
Parking: Secure Parking at 55 Holt St, Surry Hills