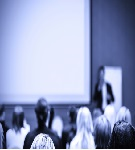 Public Transport Victoria Human Factors Team and the Transport Special Interest Group at the Human Factors and Ergonomics Society of Australia invite you to a morning of talks on application of Human Factors methods and research to inform and optimise the user centred design of public transport systems. As demand for Public Transport increases year on year, it has never been more important to optimise the design of systems through best practice Human Factors and scientific research.
Who should attend? This event will be of value to anyone involved in the analysis, design, delivery or operation of public transport systems and infrastructure.
Program:
Creating accessible bus journeys for mobility aid users (Prof. Carolyn Unsworth, CQU)
This presentation will provide details of recently completed research that measured mobility aids against the new Blue Label scheme specifications (SA TS 3695.3:2018), and then used 3D technology to scan a selection of mobility aids and buses and test their compatibility using pathfinding and collision detection software. The findings highlight the need to re-think how we currently view the compatibility of mobility aids on buses, and the limitations and potential strengths of the DSAPT.
Caution. Wet Floor. Does it explain slips, trips and falls on trains and at railway stations? (Dr Gregoire Larue, QUT)
Investigation of how passengers navigate through three selected Brisbane railway stations and on trains, and identification of potential factors contributing to slips, trips and falls. The presentation will have a user focus and will discuss both regular travellers and high-risk rail users.
Normal performance: A new perspective for improving level crossing safety using observations of user behaviour (Dr Gemma Read, University of the Sunshine Coast)
The concept of normal performance provides a new perspective for understanding behaviour in safety-critical domains. This presentation will discuss findings from a research project involving the analysis of video footage of user behaviour at different level crossing sites to better understand how factors such as the crossing design, operation or demographic factors influence behaviour. The analysis includes the range of behaviour that occurs including non-compliant behaviours, compliant behaviours, and positive safety behaviours, providing different insights into how safety can be improved. The project is ongoing and this presentation will include some key findings from various sites and emerging findings from comparisons of behaviours across different sites.
Practical and operational challenges for tackling rail trespass and suicide in Australia (A/Prof. Anjum Naweed, CQU)
The implications of fatalities arising from trespass and suicide on railways are apparent. Beyond the needless and tragic loss of human life, these incidences dramatically impact the health and wellbeing of all those affected, causing trauma and work-related stress to rail and recovery staff alike, and "vicarious" trauma to others. In Australasia, these experiences are well-documented and their impacts are a known risk that requires effective management if rail is to approach a better future. This research, endorsed by rail organisations throughout Australasia, undertook a review of international literature, and followed it with an exploration of the applicability of preventative practices. This presentation will provide the findings from the review and keys barriers for Australasia, with a focus on findings relevant to the Victorian rail context..
(limited spaces available) Register at EventBrite by clicking here
Enquiries to: Alistair.Furnell@ptv.vic.gov.au
Event organised by TranSIG of the HFESA and Public Transport Victoria.
Note: The views of the presenters are not necessarily the views of the HFESA, PTV or TfV
Location: Darryl Mackay Auditorium Level 2 (Ground floor), 750 Collins Street, Melbourne
Getting There: 6 minute walk from Southern  Cross Station, or 1 minute from Tram Stop D15
Limited street parking.