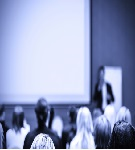 Design, design, design!
Did you know you are a designer….? Welcome to your world!
No matter what our job is, we are all designers in part, but are we using the right criteria to ensure success? When things go wrong, blaming end-users (front-line staff, drivers, controllers etc.) is commonplace; however investigations routinely point to flaws in procedures, products and systems as the root cause. Can you think of any issues in your workplace? Are they systemic? How did they get there? Why are they still there? These questions may be answered during this presentation. Each of us intrinsically has a role in safe design, but how effective we are depends on the process and tools we use.
Ron will cover:
What is the design process?
How can errors creep into the design process?
How can errors be mitigated to make designs safe?
What standards/rules can help ensure safe design of systems, procedures and products?
Designer products – which are best?
Gain valuable insights from leading Ergonomics practitioners from the HFESA, on their favourite design innovations (ergonomic products, systems etc.) for managing injury and promoting health, safety and productivity. A one-off opportunity to gain collective wisdom.
About the presenter
Dr Ron Day is a Human Factors professional, lecturing at Central Queensland University, working as Lead
Consultant – Design & Human Factors for Safe Design Solutions and is also a member of HFESA's Design SIG. Ron's PhD investigated design safety and human factors issues relevant to developing new technologies for controlling safety critical networks, (rail, air and emergency ops). His research indicates lack of participation of end-users in the design process, how this contributes to poor design and strategies to ensure safe design. Ron authored the book "Design Error: A Human Factors Approach" published in 2016. Ron's held positions from project manager to business analyst, developer, tester, documenter and trainer, and brings a wealth of experience engaging with stakeholders and end-users alike.
Who should attend? Anyone working on developing safety systems, procedures or products, and those working in rehabilitation, wellness and prevention
Breakfast & presentation           7:00am – 9.00am
Upstairs at The Ship Inn, corner Sidon & Stanley Street, Southbank Parklands QLD 4101
Cost                       HFESA member $45
Non-member $55
Event organised by Q-HFESA. For enquiries contact: secretariat@ergonomics.org.au (02) 9680 9027