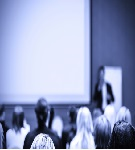 Hands-on Workshop & Breakfast PD Event Presented by Olivia Yu (PhD student)
Making the business case for health and safety interventions has become increasingly commonplace for work health and safety professionals.
Keen to know what the return on investment is for your work health and safety efforts?
Then join Olivia Yu, (PhD student) and the Qld Branch of the HFESA, for a breakfast Workshop on the Return on Investment Calculator (ROI). The calculator is a Worksafe Qld online tool which can assist businesses to better manage health and safety risks in their workplace.  It can be used to estimate an indicative return on your organisation's investments in Work Health and Safety. It shows whether a particular investment (e.g. a new piece of equipment or an employee wellbeing program) will improve your organisation's bottom line.
Background The ROI Calculator was developed as an online tool and has been available on the Worksafe Qld website since late 2016.  Olivia's PhD research, funded by the Queensland Government, now aims to determine the usefulness such a cost-benefit tool is to health and safety professions.
Workshop Information This 2-hour workshop provides a hands-on experience using the online Return on Investment (ROI) Calculator (link).  The session will explore two mock scenarios and how the calculator can be used to tackle different WHS risks.  Participants of this workshop will gain valuable insight and hands-on experience using the tool in real-life scenarios.  In return, your professional feedback of your experience using the calculator will be required, as this feedback will contribute to the results of Olivia's PhD study and provide recommendations to improve the online calculator.
Places will be limited to 25 participants and will fill up quickly, so book your spot early! Tablets/iPad/laptop required – please bring your own device to work on.