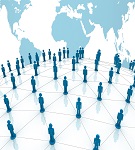 The 6.8km CLEM7 project comprises two separate two-lane tubes under the Brisbane River linking Woolloongabba in the south to Bowen Hills in the north with an entry and exit ramp at Shafston Avenue, Kangaroo Point.In a Joint venture with Ventia and Lendlease, Brisbane Motorway Services staffs the CLEM7 control room 24 hours a day, responds to traffic incidents and manages minor upgrades and routine maintenance of the tunnel's state-of-the-art systems. The project has managed over 15,000 incidents and attended over 5,000 road user events. The Traffic Incident Management Service that is provided has attracted over 160 public compliment testimonials and the successful model is being replicated on other projects such as the Gateway Motorway Upgrade and ICB Upgrade projects. The CLEM 7 Tunnel is part of Brisbane's Transport Plan, and the first critical component of the Lord Mayors TransApex vision that aims to reduce deficiencies in Brisbane's urban road network.
Following the site visit there will be the opportunity to meet up somewhere close by for a Christmas drink and to stay on for a meal should you wish to do so. This will be at attendees own cost. Venue TBA.Please note that parking is very limited in the vicinity of the Control Room complex in Campbell St – it is suggested you consider taking public transport to this event.
There is no cost for this event but numbers are strictly limited to 20.
Students welcome.