SIOPA PD Event: Unlocking and illuminating human potential through leadership development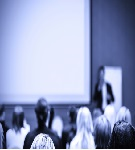 Category:
Non HFESA Event
Schedule:
06/06/2017 , 5:30 pm - 7:00 pm (Localtime)
Venue:
SIOPA PD Event: Unlocking and illuminating human potential through leadership development, Perth, Perth, ,
Detail:
HFESA WA Members can attend at SIOPA members rates.
How can we create value in organisations by leveraging the remarkable asset that is people? That's the question I ask every day as an organisational psychologist. How do we unlock potential? How do we tap in to a person's capability and inner passions? Finding the answers takes time. It certainly did for me. Organisational psychology is about getting the best value from people. It's about understanding how people and organisations interact, knowing that it can be a constructive, mutually beneficial relationship. It's like a chemical interaction that can create something amazing, or not.
In this session, Jan Sipsma (Organisational Psychologist) will explore the following themes:
Everyone must be a leader
Everyone gets leadership but does not now how to get there
How do we grow 'bigger' minds?
About Jan:
Jan Sipmsa is the Founder and Managing Director of Kaya, an organisational effectiveness practice with offices in Australia, South Africa and New Zealand. Jan is an Endorsed Organisational Psychologist with more than 20 years of experience as an organisational effectiveness professional.
Jan specialises in organisational capability and performance enhancement through the identification and development of leadership talent, improvement of team effectiveness across organisational levels, alignment between strategic direction, organisational culture, organisational architecture and business execution practices.
Event Details
Date: Tuesday 6th June 2017
Venue: FLUX, 191 St Georges Tce, Perth
Time:5.30pm – 7.00pm*
*Registration commences from 5.00pm
Cost: SIOPA Member $40
SIOPA Student Member $25
Non-member $60
Register at:https://www.eventbrite.com.au/e/unlocking-and-illuminating-human-potential-through-leadership-development-tickets-33297320181?aff=es2
Booking:
Bookings are closed for this event.