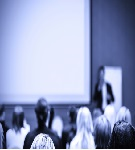 Connected and Automated Vehicles (CAVs) are predicted to transform the road network with the potential to improve productivity, reduce congestion and improve safety. Ultimate success of CAVs will depend on people's trust and how they choose to use and interact with them. Human factors methods and knowledge are critical to the design and integration of CAVs for an effective and efficient future transport system.
At this event you will hear from researchers in NSW who are working on tackling people and CAVs. The session will conclude with a panel session with the opportunity for questions and discussion on human factors issues in CAVs.
Human Factors challenges and opportunities in the design and deployment of connected and automated vehicles, Adjunct Professor Mike Regan, ARRB
Mike is Chief Scientist – Safety Systems and HF for the Australian Road Research Board (ARRB), Australia's road transport research agency. He is an Adj. Prof. at UNSW, and a Past President of the HFESA. His research includes driver interaction with automated vehicles. Mike is the technical co-leader of the Australian Driverless Vehicle Initiative, led by the ARRB, and is the Australian on the US-EU-Japan trilateral HF expert group on vehicle automation.
Understanding the impact of CAVs on behaviour and interactions. Dr Prasannah Prabhakharan
Prasannah is a Research Fellow at the Research Centre for Integrated Transport Innovation (rCITI) UNSW. With a background cognitive psychology & HF with research interests in improving transport safety systems by identifying how behavioural and cognitive 'mistakes' occur and optimising human performance.
Road Safety Evaluations of Connected Vehicles, Automated Vehicles and In-Vehicle Technology Trials Dr Anna Chevalier
Anna works in the road safety field. Anna has delivered evidence‐based programs for government underpinned by academic expertise including ground‐breaking road safety programs including connected vehicle, naturalistic driving, instrumented vehicle, wearable safety technology and intelligent speed adaption. Anna is the Principal Technology Leader at ARRB.
Where do we put usability and safety in the transition to connected and automated vehicles, Professor Ann Williamson
Ann Williamson is Director of the Transport and Road Safety (TARS) Research Centre and Professor of Aviation Safety at the School of Aviation, UNSW Sydney. Ann has a history of research on a broad range of HFE issues in transport safety including new technologies in vehicles.
Registration from 8.30am
Presentations from 9am-12pm
Cost: FREE
Getting here: A 3 minute walk from Chatswood Station. Limited street parking. 12 minute walk from Westfield Shopping parking.
There are limited spaces available please register for this event using the button below.
For any enquires, please contact Airdrie Long 0418 385 605 or transig@ergonomics.org.au