VIC Branch: Knowledge through Networking & Sharing event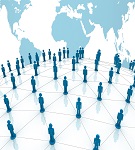 Category:
HFESA 2017 Conference Workshops & Site visit Registration
Schedule:
13/09/2017 , 8:30 am - 4:30 pm (Localtime)
Detail:
Knowledge Through Networking & Sharing Wednesday 13 September 2017 – sponsored by
Humanscale.
Don't miss out on this great opportunity to update your knowledge on what the current buzz Ergo topics are all about. Network with HF professionals and share information in a one day accessible, affordable and compact seminar.
Speakers:
Dr Mike Regan – Driving distractions
Daisy Vetch – The WEAR Anthropometric Database
Chris Fitzgerald – Implications of Sensing Technologies for Ergonomists
Emma

Blee

– Mental Health
Stephanie Cassidy – Physical and Psychosocial Hazards of an office Activity Based Work Environment
Fiona

Begg

– Health Industry service counters – design challenges and solutions

Lethumy

Taylor –

KHAT

drug use in the workplace
Dr Mike Regan – Driverless vehicles
Venue:  Australia Post Level 10 / 111 Bourke Street Melbourne 3000 (Tasman & Coral Rooms).
Time: 8.30am  – 4.30pm (Lunch, morning & afternoon tea provided).
Costs:
Non Members $300 (Early bird registration by 1 September $250)
HFESA Member: $200 (Early bird registration by 1 September $150)
Students: $50
Booking:
Bookings are closed for this event.