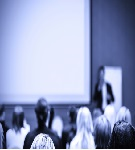 Special guest speaker: Dr Caroline Knight
Caroline has just joined the University of Western Australia from Sheffield University, UK having completed her PhD in 2016. Caroline completed her Bachelor's degree in Biology and Psychology from Durham University, UK in 2003 and her Masters in Research Methods in Psychology at the University of Hertfordshire, UK, in 2011. During her PhD studies she had the opportunity to work on a number of projects with organisations such as the Sheffield Council, the National Health Service, and Sport England.
Topic: The role of interventions to increase work engagement in organisations
Abstract: This talk will discuss two studies that investigated the role and effectiveness of approaches to increase work engagement. The first was a systematic review of work engagement interventions, revealing important insights of practical use to organisations and practitioners around the types and styles of interventions that can be effective.
The second study focused on a participative action project to increase quality of care and work engagement in nursing staff on acute elderly care wards in the National Health Service, UK. The Job Demands-Resources model and Self-Determination Theory help explain the proposed mechanisms underlying this intervention. Important conclusions are offered surrounding the process of conducting interventions and the need to evaluate their implementation and effects.
Evening Plan:
5.30pm -6.00pm: Drinks and Nibbles
6.00 to 6:45: Dr Caroline Knight Presents!
6:45-7.30 AGM!