The Executive of the Computer Human Interaction Special Interest Group (CHISIG) nominates a recipient for the CHISIG Medal. CHISIG also has an Award for the best paper at their annual OZCHI Conference named in honour of Gitte Lindgaard.
For outstanding service to and promotion of CHISIG over at least ten years.
Awarded to a member of the CHISIG in good standing, or a retired member of CHISIG.
Nominations can be submitted by any CHISIG member.
The Award is based on the collaborative assessment of the CHISIG Executive.
The Award is in the form of a medal suitably inscribed with the recipient's name.
Past recipients
2006 Verna Blewett, Roger Hall, Judy Hammond, Gitte Lindgaard and Michael Patkin
2007 No medal awarded
2008 Steve Roberts and Steve Howard (Deceased)
2009 Greg Ralph
2010 Penny Collings and Toni Robertson
2011 Cécile Paris and Frank Vetere
2012 No medal awarded
2013 No medal awarded
2014 No medal awarded
2015 No medal awarded
About Gitte Lingaard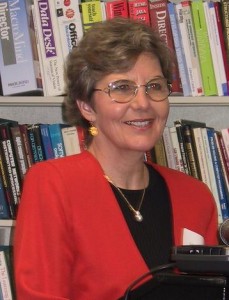 Professor Gitte Lindgaard has been the Chair in User-Centred Design and Director of the Human Oriented Technology Lab at Carleton University in Ottawa since January 2000. In this role she is overseeing a unique teaching and research programme in a university with one of the longest traditions of engagement in user-centred design.
With a PhD from Monash University and professional experience in the Telstra Research Labs, Professor Lindgaard has a particular awareness of the Australian context and has made substantial contributions to the study of Human Computer Interaction (HCI) in Australia.
Professor Lindgaard's current research interests are in:
Modelling the Business Value of HCI;
Human judgement and decision making;
HCI in the design process;
Task analysis and task context;
User interface design and
Elements of pleasure, user satisfaction and usability.