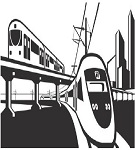 Human Factors in Light & Heavy Rail Operations
Current research and future challenges
Transportation systems are becoming increasingly complex, with ever advancing technology and increasing pressure to move more passengers and freight safely and efficiently. Human factors methods and knowledge are vital for ensuring current rail operations are effectively managed and critical to the design and integration of future systems in order to optimise the interface between humans, technology and the work environment.
At this event you will hear from researchers from across Australia who are working on tackling the current and future issues faced by modern rail systems. The session will conclude with a panel session with the opportunity for questions and discussion on human factors issues in rail more generally.
Future Proofing Urban Transport Networks, Associate Professor
Anjum
Naweed
Anjum is an Applied Cognitive Scientist at the Appleton Institute for Behavioural Science at Central Queensland University. His research focuses on understanding the relationship between people and technologies, tools, environments, and systems, and practically translating this across the safety critical domains.
Cue Utilisation and Situation Assessment in Rail Operations, Professor Mark Wiggins
Mark is an Organisational Psychologist, Deputy Director of the Centre for Elite Performance, Expertise, and Training, and Director of the MacquarieUniversity Integrated Simulation Hub. His research targets the evaluation and development of decision-making skills in applied industrial settings.
Human Factors Challenges Associated with Automation in Transportation Systems, Dr
Gemma

Read

Gemma is a Research Fellow at the Centre for Human Factors and Sociotechnical Systems at the University of the Sunshine Coast. Her research focuses on how human factors and systems thinking methods can improve safety in transport domains.
Bridging the Research-Practice Gap in Transport Design and Investigations, Professor Paul Salmon
Paul is an Australian Research Council Future Fellow and is the Director of the Centre for Human Factors and Sociotechnical Systems at the University of the Sunshine Coast. His research involves the application of human factors and systems thinking to optimize the performance of sociotechnical systems.
Date: Thursday 18th May 2017
Registration: 9am
Presentations: 9:15am to 12:00pm
Cost: Free
Hosted by: Asset Standards Authority
Transport for NSW
Level 7
12 Help Street
CHATSWOOD 2067
Ph: 02 9422 7187
Getting here: A 3 minute walk from Chatswood Station.
Only limited street parking. 12 minute walk from Westfield Shopping parking.